Master Class
"I love how Dan emphasizes the fundamentals
of story telling. A great script starts with a solid
structure and that's what one learns in Dan's
classes."
-Ryu Miyaki, four-time Act Four client and
winner of Amazon Studios Script of the Month
$20,000 Prize
The Story Maps Master Class is for serious screenwriters who are willing to dedicate themselves to writing a winning screenplay for the current spec script market in Hollywood.
"If you are looking for someone who combines
expert analysis with incredible credentials and experience,
put Daniel Calvisi in your script analyst black book."
-Script Magazine.
The Story Maps Master Class is a proven screenwriting program that guides you from logline to submission-ready spec script, offering you reliable, detailed notes from:
A teacher with 15 years of experience and extensive film industry credentials
At least two current, working professionals in the movie industry in Los Angeles (Past pro advisors have included a Literary Coordinator from one of the top five agencies, a Creative Executive from a major studio-based production company, a development executive and a six-figure screenwriter.), including our Senior Advisor Lee Stobby. See below for his bio.

Your fellow writers
That's a lot of notes!
In many online screenwriting courses, you're lucky to get your instructor's notes on ONE assignment. I give you notes every week on every assignment, sometimes with same day turnaround.
"Dan's class is fantastic. From concept to
execution, his feedback each week has been
a huge help. His industry connections add
another dimension with insight from current
professionals. His format allows you to keep
your own pace and match your own goals.
The group setting is great for the creative
process. I really feel like my writing has improved
in general and the script I'm working on
has been taken to the next level!"
-Mandy Cohen, Group and Private Master Class student
"Dan, thank you for your support and professionalism.
First of all, I learned so much from your critiques and I
appreciate the way you pushed me to do better all the time.
I also now understand more about the business after the
critique from the industry advisors. It inspires me to
improve myself!"
Max Badier, Private Master Class Student

In the Master Class, you may write alone, but you're never on your own. Whether you're in a group class or working privately with me, I foster a supportive, positive environment that's focused on the craft, the work and the real world, not on theory.
SENIOR ADVISOR
I'm excited to announce that literary manager Lee Stobby of Caliber Media Co. is coming on board to act as a Senior Advisor to the Story Maps Master Class. Lee will give Master Class writers feedback on loglines, pitches and the industry. He's here to not only expertly critique your craft but to educate you on the business of screenwriting. Perhaps most exciting of all, for those who complete their screenplay and get it to a high level of quality, he will read and consider it for representation.
Please keep in mind that not every writer in the program completes their screenplay and I want to stress that there is no guarantee of Lee's evaluation of your completed screenplay. But I can tell you that he's exactly the type of Manager that an emerging writer wants on their team — he's young, hungry, tireless and he has a deep Rolodex forged while working for a number of top companies.
LEE STOBBY BIO

Lee Stobby began his Hollywood career working for Misher Films (PUBLIC ENEMIES, THE RUNDOWN), Double Feature Films (DJANGO UNCHAINED, CONTAGION) and then talent manager Sandra Chang at Industry Entertainment, whose clients include Sam Worthington, Paul Dano and Michelle Dockery.
Lee now works at Caliber Media Co. as a literary manager, representing writers and directors and sharing clients with every major agency (CAA, WME, UTA, Resolution, etc). Clients include Lindsay Stidham who co-wrote the Sundance hits DOUCHEBAG and SPOONER for Drake Doremus, Kaare Andrews who directed the upcoming CABIN FEVER: PATIENT ZERO, S. Craig Zahler who has scripts with Michael Mann and Park Chan-Wook set to direct, filmmaker Rodney Ascher whose documentary ROOM 237 was the talk of Sundance and Cannes, and writer/director J. Mackye Gruber (THE BUTTERFLY EFFECT, FINAL DESTINATION 2).
Lee is also a producer, including the upcoming feature ABBY IN THE SUMMER, which stars Jaime Pressly, Robin Thicke, Frances Conroy and Joey Lauren Adams.
In 2013, Lee proved he has a keen sense of talent and material when he signed three hot screenwriters before they placed high in major contests: Kate Trefry who won the Tracking Board contest with her script "Pure O," Robin D. Fox after reading his screenplay "The Bright and Hollow Sky" which was chosen for the first annual Black List screenwriting lab, and Turner Hay who placed in this year's Samuel Goldwyn Awards and recently signed with WME.
Lee's passion for film and great writing shines through in everything he does. Above all, Lee is all about the writer — he responds most of all to a writer's voice on the page and he's dedicated to helping a writer develop over time.
GOALS

My goal is to get one of my writers repped by a top manager and agency. From there, they will have an experienced team behind them to take their polished work to the currently thriving spec screenplay market in Hollywood.
I can't promise success, but I can promise that I will always work as hard as I can to guide your writing and to expose you and your work to the industry. If you're willing to work hard enough, to develop that BIG IDEA into a GREAT SCRIPT that Hollywood didn't know it needed, then we will help you to build a pipeline that gets you and your material into the right hands.
""Your course is awesome!  This is the first "structure"
that I feel comfortable with. You're also very good with
feedback/notes and you have a sense of humor that keeps
me from taking my writing too serious. I like that.
I need that. I think all writers do.  You state your observations
clearly and professionally without being overly critical.
That encourages progress."
-Regina Scott, Private Master Class student

I'm getting a lot out of the Master Class.
I've developed a real appreciation for the
structure and strategy of screenwriting.
Hopefully my "voice" will emerge with more
sweat equity. It's been a good investment."
-Steve Frisina, Group Master Class student
This is not just another screenwriting class. The goal of this program is to get motivated and talented writers REPPED, SUBMITTED and SOLD.
In the Master Class, you begin by workshopping three loglines, two of which you will rewrite, submit to our industry advisors and then story map. I guarantee that you will be surprised by some of the feedback you get on your concepts, as no writer can be fully objective about their own work nor can they predict industry response. Eventually, this feedback will help you to choose the WINNING screenplay to write for the current spec market in Hollywood.
CURRENT PRICING:
GROUP CLASS* (3-6 writers):
$600 for Stage One, Weeks 1-8
$250 for Stage Two, Weeks 9-12
$250 for Stage Three, Weeks 13-16
BONUS: Extra month for free, if you book Stage Two and Three in Week 8.
*I only run a group class when I get the right group together so email me to inquire about the next open dates. Newbies and veterans alike are welcome as I try my best to group by experience level.
PRIVATE CLASS:
$850 for Stage One, Weeks 1-8
$350 for Stage Two, Weeks 9-12
$350 for Stage Three, Weeks 13-16
BONUS: Extra month for free, if you book Stage Two and Three in Week 8.
TO APPLY FOR THE MASTER CLASS, please email your best screenwriting sample (feature or short, minimum 20 pages) and a one paragraph bio to me at dan@actfourscreenplays.com. If you have any questions, please feel free to contact me via this site or by the email address above.
LET'S MAKE YOUR SCRIPT GREAT!!
Daniel Calvisi
(About Me)
P.S. If you have not done so already, I suggest you sign up for my free Story Maps Newsletter for Serious Screenwriters, which will keep you up to date on any Master Class news. I will never share your email with any other party.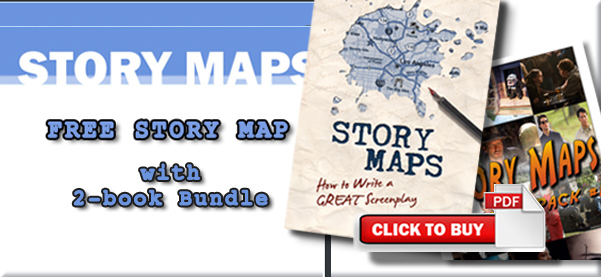 "Dan has created a book that is straightforward and full of valuable insight and guidance for screenwriters at different experience levels."
-Laurie Lamson, Editor, Now Write! Screenwriting